Day 1: Marrakech - Grande Atlas - Telouet Valley - Ait Benhaddou - Ouarzazate - Draa Valley -Tamnougalte
Departure from Marrakech. Crossing the Tichka hill (Great Atlas) we will discover the fortified city of Ait Ben Haddou declared a World Heritage Site by UNESCO in 1987, located near Ouarzazate, the Moroccan Hollywood. Visit the Kasbah Ait Ben Haddou, The fortress is adorned with wonderful towers, and is one of the most beautiful places in the Berber region of the Atlas. Then we will continue to Ouarzazate where we will have lunch and visit another very beautiful kasbah, located in the heart of Ouarzazate. Later we will resume the route to the palms of the Draa Valley, where 250 km of palm trees await us, which penetrates the desert and takes us to the village of "Tamnougalte", where the film SKY PROTETTORE was filmed. Night in a small Berber village in the heart of the valley.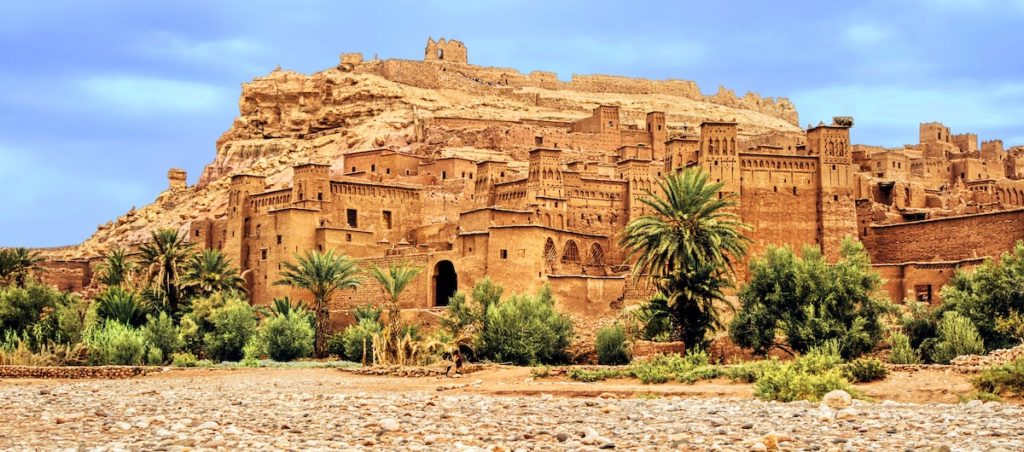 fortified city of Ait Ben Haddou
Day 2: Tamnougalte-Nekob - Tazarine - Rissani - Erg Chebbi- Merzouga desert
After breakfast we will visit the typical kasbahs of Tamnougalte, from here we will resume the trip and observe the caravans of the merchants who crossed the Anti Atlas. The road goes from the Tafilalet valley to the Draa valley, we will find landscapes with strong and contrasting colors, ranging from ocher, red and purple to the black of the Hamada desert. After a trip full of desert landscapes, oases and palm trees, we will arrive in the city of Rissani. A small stop to see the famous market and have a tea, after which we will continue towards the Erg Chebbi desert.The dromedaries await you at the hotel, with which you will make a 2-hour excursion to the great dunes of Morocco and you will see The fantastic sunset in the desert. Night and dinner in a Berber tent.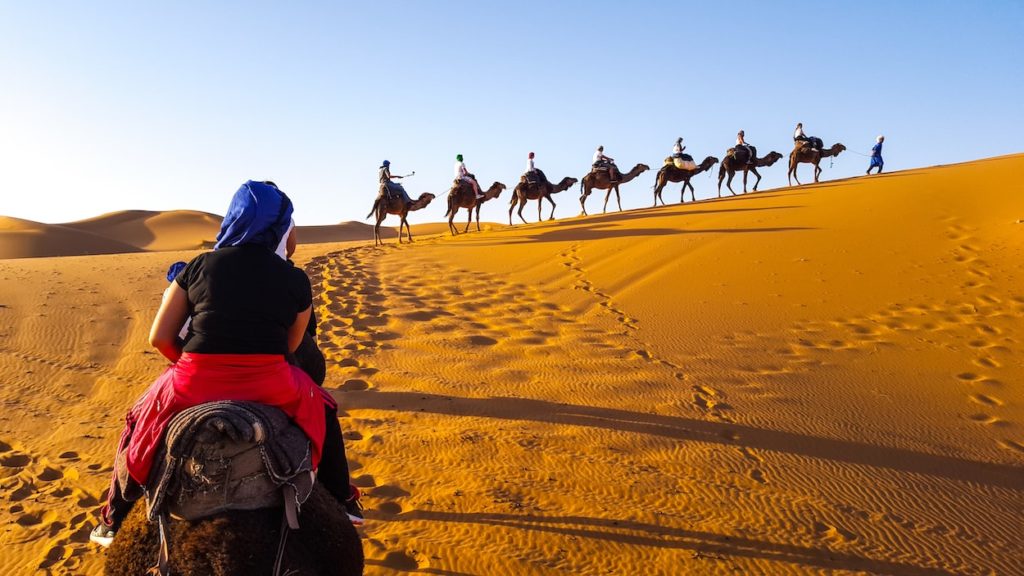 Merzouga desert
Day 3: Erg Chebbi - desert - Hamlia-Erfoud - Todra Gorge - Dades Valley
We wake up early to watch the sunrise ... An incredible show of lights, colours and silence. After trying this immense gift of nature, we will return to the hotel to take a shower and have breakfast. We will visit the town of Khamlia, where we will visit a Berber family and see how they live. We will continue towards Erfoud and the gorges of Todra, The walls are increasingly narrow and high, reaching up to 300 meters. After visiting this fantastic landscape, we will go to the Dades Valley, where we will have dinner and sleep in a Riad.
Day 4: Dades Valley - Valley of the Roses - Skoura - Marrakech
During this day we will know the Valley of the Roses and the palm trees of Skoura. We will cross the path of a thousand Kasbahs. We will arrive in Ouarzazate and from there we will return to the red city Marrakech.
Contáctanos

Tamnougalte - kasbahs